Vladimir Cetkar Septet at Lucille's at the legendary B.B. King Blues Club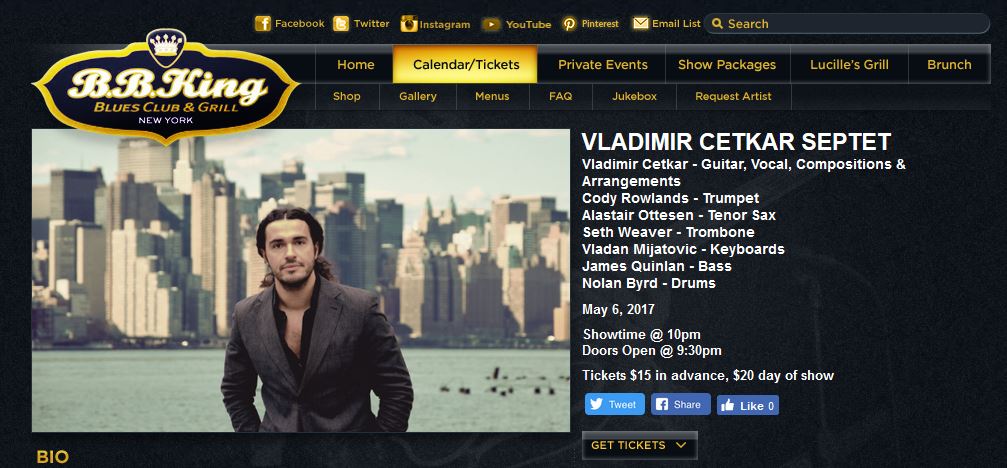 This coming Saturday, May 6th at 9:30 PM, Vladimir Cetkar Septet is returning to Lucille's at the legendary B.B. King Blues Club, a famed NYC music venue conveniently located at Times Square.
Vladimir Cetkar Septet will feature some of the finest new talent in the city performing materials from Vladimir's critically acclaimed albums Heavenly and We Will Never End.
Tickets are $15 in advance or $20 day of the show.
To purchase tickets and for more info please go here:
http://www.bbkingblues.com/bio.php?id=8347
(Doors open at 9:30 PM Show starts at 10PM)
Line-up:
Vladimir Cetkar – guitar, vocal, compositions & arrangements
Cody Rowlands – trumpet
Alastair Ottesen- tenor sax
Sethe Weaver – trombone
Vladan Mijatovic – piano/keyboards
James Quinlan – bass
Nolan Byrd – drums
Watch Vladimir Cetkar official music videos here:
(Live in Korea)
Selected Press:
SEVEN DAYS NEWSPAPER
"Versatile Virtuoso"
'Mix George Benson's guitar playing with Quincy Jones'
arrangements, add Jamiroquai's grooves and Earth, Wind &
Fire's vocals and, you get Vladimir Četkar. Brimming with
style, the multitalented Macedonian guitarist and vocalist
also composes, arranges and produces his original music.
Described by Time Out New York as "George Michael fronting
Steely Dan in a cocktail bar," Četkar channels the 1970s
and '80s, interweaving pop, soul and disco into jazz.'
PATCH MEDIA
'Macedonian guitarist Vladimir Četkar's mélange of jazz,
funk, and soul is fleet, uninhibited, and original. If the
occasional high strings and up-tempo funk evoke disco, then
Četkar's emotive, earnest voice makes appeals intended for
only the smoothest of jazz gods.'
TIME OUT NYC
'Vladimir Cetkar's shirtless beachside promo photos tell you
all you need to know: This Macedonian soul man mashes disco
and fusion into luxurious pop concoctions. Think George
Michael fronting Steely Dan in a cocktail bar.'