Drawing Lightscapes, curated by Dina Krunic
artists: Yael Erel and Avner Ben Natan, Sharan Elran, music performance King Dancer Band, dance performance by Ann and Alexx Make Dances
Opening reception:
Thursday, February 5th, 6pm – 9pm.
Feb 5th – Opening 6-9 pm
Feb 11th – King Dancer band – Live performance – 8pm ($10 cover)
Feb 22th – King Dancer band – Live performance – 8pm ($10 cover)
Live Closing Installation – Feb 27th
Light intersecting stillness & motion – 7:30-8:31pm

Drawing Lightscapes is an installation that explores the tension between the physical and the projected through using light as a medium to draw lightscapes onto screens and lighting objects as an instrument to project, filter and reflect this light. The installation is constructed to allow for two major modes of viewing: the unobstructed view of the lightscapes as drawings, which imply an imaginary scape, as well as narrow passage zones, which encourage the viewer to peek behind the screens and enter the field of projection. As one enters behind the screen, one enters into the depth of the drawing and in so doing modifies the drawing itself.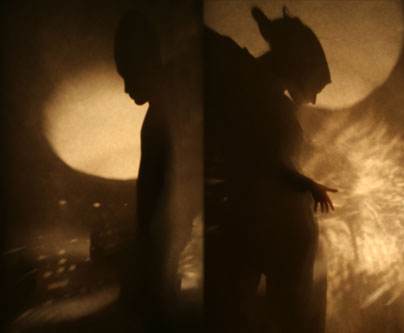 Gallery MC is open Tuesday–Saturday, 12–6pm, at 549 West 52nd Street, 8th Floor. (between 10th and 11th Ave.) For further information please contact the gallery at 212.581.1966 or info@gallerymc.org
related web sites:
www.lightexture.com
www.alexxmakesdances.com