OPEN STUDIO SERIES- ROBERT DANDAROV
We would like to invite you to visit
Robert Dandarov's art studio
on
Saturday, October 23, 2010 from 2 – 6 p.m.
This is a free event open to the public.
You will have the opportunity to see Dandarov's latest drawings and paintings in him own working studio environment.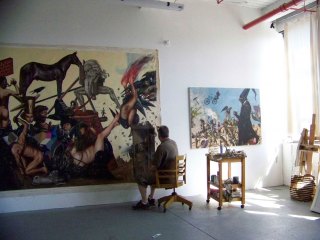 Studio is located at:
112 2nd avenue, (corner of 10th street), Brooklyn, NY 11211
2nd floor.
Directions:
Take the R or the F to 9 str and 4 ave.(walk one block to 10 str and 2 blocks to 2nd ave), (its the red building under the elevated bridge, behind Lowe's)
Please call 718-877-6208 to gain entrance to the studio.

The studio is located in large industrial buildings as well as garages, brownstones and warehouses near the Gowanus Canal in Brooklyn.
The Gowanus area is conveniently located from many subway stations and the LIRR Atlantic Avenue station between Park Slope, Carroll Gardens, Cobble Hill and the Boerum Hill neighborhoods.