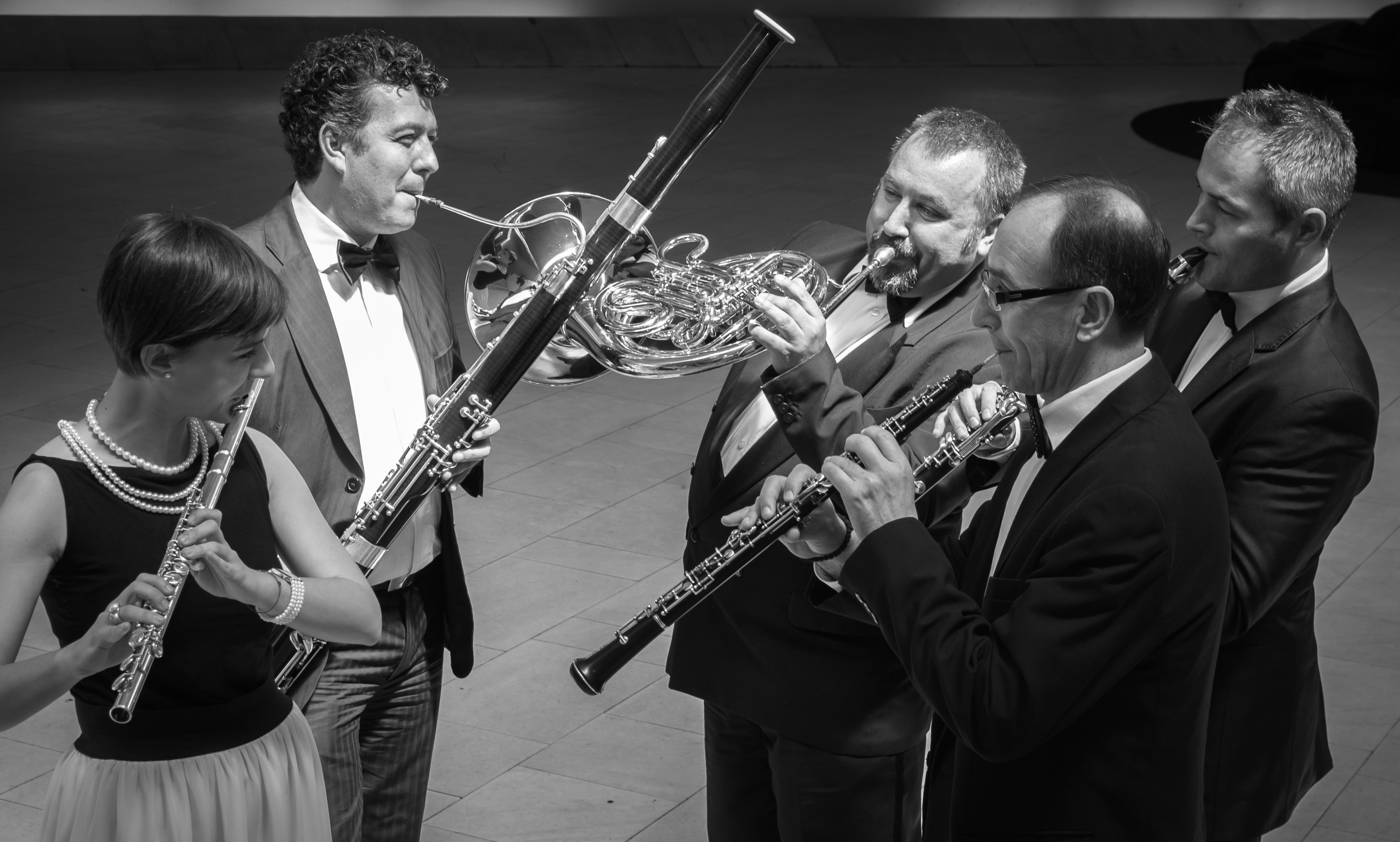 Program
1. J. Haydn:  Divertimento B- dur
-Allegro con spirito
-Andante guasi Allegretto ("Chorale St. Antoni")
–Menuetto
-Rondo, Allegretto
2. F. Farkas:  Antiche danze Ungheresi
-Intrada
-Lassu
-Lapockas tanc
-Chorea
-Ugros
A. Dzambazov: Humoreska
– – – – – – – – – Brief Intermission- – – – – – –
3. G. Bizet:  fragmenti "Carmen"– Suite pour quintette a vent
-Introduction
-Habanera
-Les Toreador
(Тranscription: D. Walter)
4. G. Gerswin :  Suita –
Porgy & Bes for Wind Quintet
-Moderato con moto
-Andante poco allargando
-Allegretto, poco menno mosso
8. G. Smokvarski – "Teskoto",
fragment of ballet Macedonian History
(arr.: A. Schurev – V. Atanasov)
PORTFOLIO
Skopje Woodwind Quintet
 The Skopje Woodwind Quintet exists for more than thirty years and it is a part of a tradition of chamber friendship among a pleiades of Macedonian artists of the woodwind instruments. In the course of its existence, the chamber ensemble performs works from the world heritage as well as works from Macedonian composers, some of them particularly composed for this ensemble. Grand masters of their instruments have being coming and going as members of the ensemble, always with wishes and recommendations for the Skopje Woodwind Quintet to continue to exist.
The Skopje Woodwind Quintet has realized a significant number of performances in the country and abroad, as well as it has a large number of sound and TV recordings. The Skopje Woodwind Quintet has been awarded for its successes with highest awards such the November Award of the City of Skopje, Success Award of the Cultural and Educational Community of the City of Skopje, October Award, the highest state recognition and others.
The Skopje Woodwind Quintet participates in renowned manifestations and festivals in the country: Ohrid Summer Fest, Days of Macedonian Music, Skopje Summer Fest as well as it has performed on different occasions in Austria, Bosnia and Herzegovina, Bulgaria, Croatia, Kosovo, Montenegro, Serbia, Slovenia.
Since 2002 the Skopje Woodwind Quintet continues its artistic activity under the artistic leadership of Professor Vasil Atanasov, MA with great enthusiasm, fulfilling energy and superb artistic professionalism.
Following the concert in Vienna – Austria in March 2013, the music critique titled "The Skopje Woodwind Quintet conquered Vienna," shall remark that: "The Skopje Woodwind Quintet impressed with a carefully selected programme, clearly emphasized musicality and a sharp taste for shaping and dosing of the collective sound in the crafting of musical melodies, followed by compliments for a superb performance."
The ensemble is currently comprised of known and established Macedonian artists – members of the Skopje Soloist Chamber Orchestra, the Macedonian Philharmonic and the Macedonian Opera and Ballet:
Vasil Atanasov, oboe
Marija Jakimovska, flute
Risto Gjorevski, clarinet
Marjan Milosevski, bassoon
Aleksandar Gosev, horn