"One must have chaos in order to give birth to a dancing star." Nietzche.
Uili is a self-taught artist who began his journey as an academic interested in philosophy and pure mathematics. His professional career has been in the health and fitness institutions. His life long interest has been in the mathematical dimensions of  The Royal Tongan Motifs which are translated as "Fata-O-Tu'i-Tonga patterns". These artworks depict the stillness of The Royal Tongan Motifs in motion and express the rhythm, impulse, and symmetry of Fata-O-Tu'i-Tonga in space. The repetitive motifs create a visual matrix and present a dialectical process of transition from traditional to contemporary and representation to abstraction. He takes The Royal Tongan Motifs into a new realm of PACIFIC MOANA ART that emanates, permeates and emits Light and Energy. It is form beyond the formless. MAKING SPACE SPEAK, PERHAPS, BETWEEN WORLDS. I FEEL, I THINK, therefore I AM.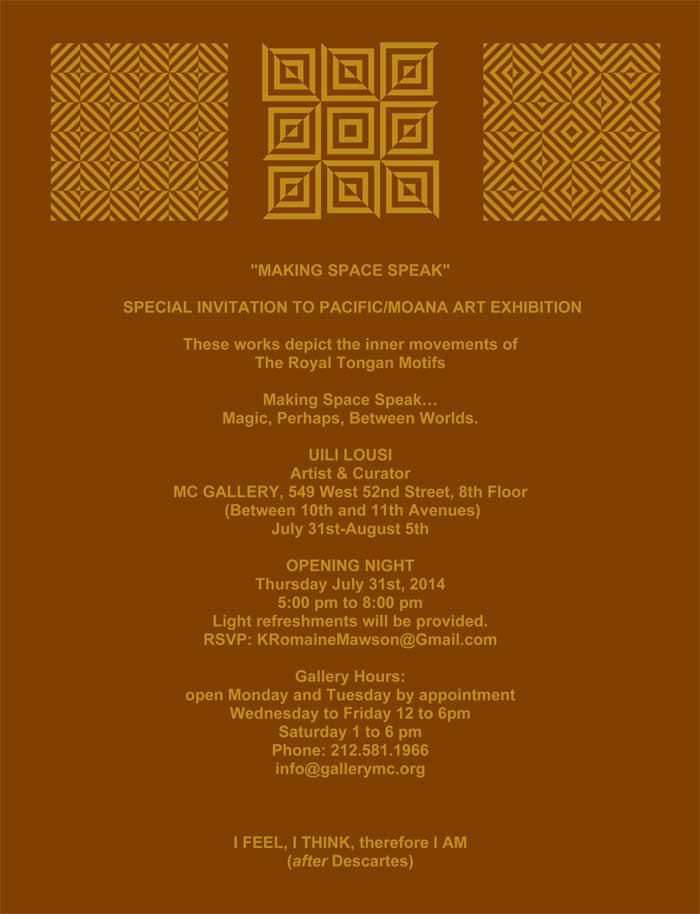 Uili Lousi
MAKING SPACE SPEAK
Gallery MC, 549 West 52nd Street, 8th Floor (Between 10th and 11th Avenues)
July 31-August 5
Gallery Hours: Open Monday and Tuesday by Appointment; Wed to Friday 12 to 6pm; Saturday 1 to 6pm.
Phone: 212.581.1966
info@gallerymc.org