Visual Artists in Residence with Musical Performance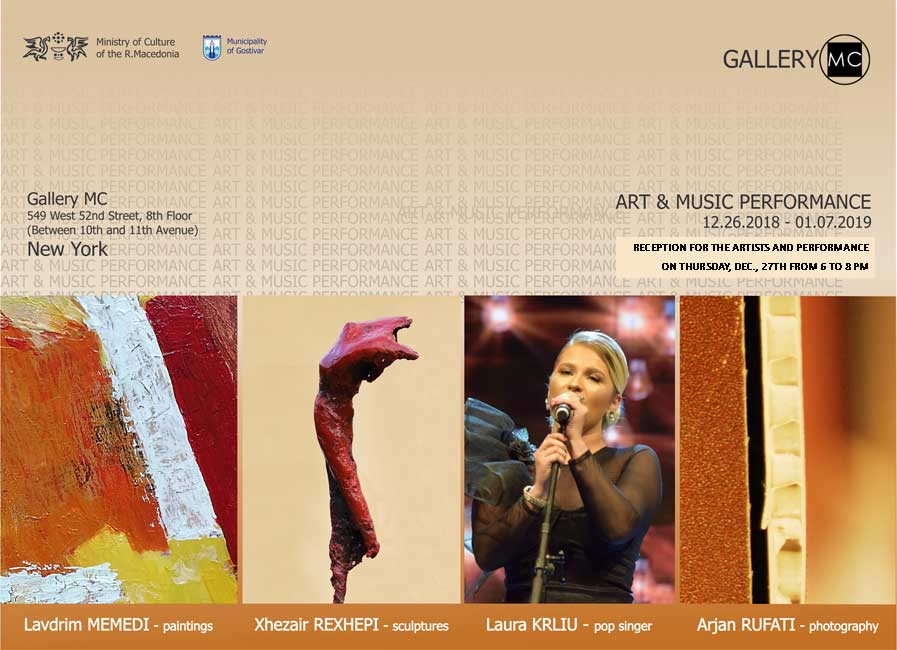 VERTICAL LINE OF LIFE IN THE WORK OF XHEZAIR REXHEPI
Xhezair Rexhepi, born in the village of Tanushe, Gorna Reka, in 1983, obtained his academic education at theFaculty of Fine Artsin Tetovo and Master Faculty of Fine Arts in Prishtina and after finishing theeducation he became engaged at theArt Conservation Centerin Gostivar, but in addition to the conservation work, his own art production is noticeable as well.
In efforts to find his own visual expression, in context of sculpture art, Xhezair Rexhepi shows preference for the area of ​​abstract/geometricized sculptural form and the bond of both the forms and the materials. He promotes plastic structures with certain semantic and associative features. The most common materials used in the works are polyester, metal, wood… as well as the combination of materials; on the other hand, the presence of several stages and preoccupations during his work is evident as well.
Through his creative art production, Rexhepi creates works of art with a spiritual atmosphere; these are works that do not rearrange everyday objects and items, but instead change everyday life as a productive artistic force, touching all areas of life in the context of a comprehensive artistic work.
In Rexhepi's sculptures, the shape is conveyed mostly as free, live-modeled form, while also involving an abstract/geometricized form elaborated in the manner of Art Brut, which an associative/anthropomorphic content looms from. The dynamism and rhythm of the forms is attained by means of connecting the free and geometricized forms in the shaping of the work.
The collision, involving expressive and geometricized shapes and patinated surfaces, tends to become fluidized into aesthetic objects of free plastic form. Care for artistic and aesthetic refinement speaks of the intention to find an adequate form for a more complete expression of the idea in the development of various plastic art solutions that represent spatial arabesques with a prominent sense of monumentality even though it is a small-scale plastic art.
The sculptures produced by the artist are stylized and void of details, which, depending on the construction in the shaping of the work, reveals the basic plastic structure. In some of the sculptures, one can note that there are certain cavities (perforations) that counterpoint in the sculptural mass and create external light sensations in achieving voluminosity, while being at the same time an important element in the overall visual effect.
The sculptures, with abstract/associated form in Rexhepi's body of work, are not a reaction to traditional sculpture art, but a need to reveal the elementary relationships of pure plastic phenomena.
The vertical line of life in the works made by Xhezair Rexhepi has been conveyed into space by means of his sculptures. His body of work reveals him as a deeply conscious author whose spiritual contemplation is materialized in a sculptural form.
Gorancho Gjorgjievski
About Lјаvdrim Memedi
Lјаvdrim Memedi comes from the village of Cegrane-Gostivar; he was born in 1979 in Gostivar, and graduated from the Faculty of Fine Arts at the University of Ss. Cyril and Methodius in Skopje; he got employed at the Ministry of Culture of the Republic of Macedonia as a senior associate in the field of fine arts; later he got transferred to the Conservation Center in Gostivar, and simultaneously with his activities at the Conservation Center, his work as a painter also developed.
Knowing his character and his works, I can freely conclude that Lјаvdrim offers a different approach to the works of art, having an uncompromising personal approach to creativity and artistic values as such.
The notion of contemporary art refers to the executed and reproductive art of the artists who live and work today. Today's artists work and adapt to the globalized environment in a cultural aspect, technological advancement, and diversity. Modern artists often reflect and comment on modern society as such. When being engaged in contemporary art, viewers are challenged to leave aside questions of the type: "Is it a good piece of art?" or "Does the work meet aesthetical standards?" Instead, viewers are left to consider whether art is "challenging" or "interesting. "
Modern artists can call into question traditional ideas of how art is defined, what art is and how art is done, creating a dialogue with – and in some cases, even rejecting the artistic styles and art movements that are shown to them. Bearing all this in mind, we can note that Memedi creates his works as modern and two-dimensional, having clear surfaces with impasto color and creating composition with direction and contrasting color, which is asymmetrically artistic with geometric shape.
The works of Lјаvdrim are dominated by pure colors, technically well materialized and with a varied texture. Defining or joining the surfaces creates thin voids. However, if we look at the pictures better, they then show us lines where Lјаvdrim knows how to define them with great artistic mastery. In context of this materialization, he proves that he knows the picture, the color, and the drawing and knows how to use them in an appropriate artistic manner.
Memedi has distanced himself from realism and real figuration; he has been moving more to the abstraction. In context of his body of work, we can say that he belongs to modern contemporary art and is part of the younger generation of painters.
Xhezair Rexhepi, MA, 2018
ARTISTIC CREATIVITY
Arjan Rufati is one of those artists who gradually leave an artistic impression in our cultural spaces. He possesses a noble creative character that not only helps in his artistic upgrading, but also positively influences the cultural environment where he works and belongs.
Arjan is a more dynamic and energetic creative artist with a rich vision of perception and presentation of the ultimate artistic product. His works of art are not just in his main field of activity, i.e.,Graphic design, the works that Arjan has given a special author's statement and artistic dimension, but also he has held high-quality photography exhibitions, as is the case with the exhibition held in New York City.
Photography, as an art medium, has turned into global art activity and art business and has become part of almost every digital device of the contemporary person. However, that does not mean that every individual has an artistic sense of using the camera.
With his skill in using the camera and knowing the secrets of the profession, his eye and lens together are able to recognize the natural phenomena, the things around us that accompany us in our everyday life, their particles, but what the eyes of ordinary people do not see; certainly, Arjan knows how to find and reveal them, then break them down and present them as a form of artwork.
Arjan's photographs initially reveal the high quality of recognition of the composition, the organization of spaces that are more geometrically executed, with elements of everyday life filled with various textures of natural, artificial, and imitative origin. Furthermore, the geometric spaces are also complemented by colors, and offer strong coloring, but in some cases they are "shaded," as if the color gives the contours of the final shape. The most commonly used colors are red, orange, and so on; hence, they are used in context of providing spirit to the composition as a whole.
Also in Arjan's photographs, the element of Line is present in almost all his photographs, in many cases accompanied by reinforcing the shape and aesthetic figurative idea. In many cases, he intelligently and masterfully uses achromatic tone values, which are contrasting and harmonious, depending on the basic idea.
The works that will be exhibited in the gallery confirm his artistic energy and creativity. On the other hand, recently, Arjan with his personality, with his multiple creativity, has been able to show that he can handle all modern aesthetic challenges that arise not only from the camera, but also from the most modern global digital technology, and computer software that gradually conquer the present world of man. All these qualities make Arjan a complete artist, having also the creative skills required by contemporary cultural time and space.
Reshat Ameti, December 2018