Concert on November 2nd, starting at 8pm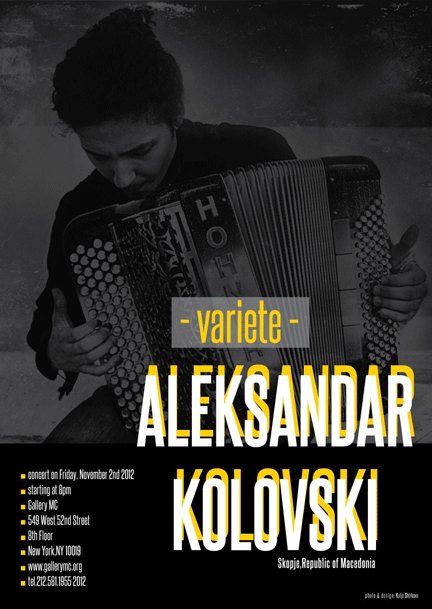 FROM CLASSICAL TO VARIETY
A FIESTA OF ACCORDION MUSIC BURSTING WITH ENERGY
Every one of this performer's appearances is truly a fiesta of accordion music literally bursting with energy! It's as if Aleksandar Kolovski was born to play this instrument: the most complex virtuoso works appear to simply melt in his hands, while his innate musicality captivates listeners from the very first accords. Listening to this young musician, you realize that the accordion is his voice, his orchestra.
A laureate of more than ten prestigious competitions, in his concert he'll prove that nothing is impossible: both classical and popular works sound spell-binding in the hands of a true talent.
PROGRAM:
-A. Piazzolla-Tanguango (arr.A.Kolovski  and P.Bouvier)
-C. Thomain-L'enfant demon
-J. Richard-Hommage pour Jaqes Brel
-R. Galliano-Tango pour Claude
-A. Kolovski-Magdalena (on theme  of the song by O.Dragojevic  dedicated for Matea Kiselicka Dancer in Skopje Dance Academy and Skopje Dance Theatre-This is story for everybody who lose some important person in the life)
-P. Bouvier-Besame mucho
– Macedonian traditional music (arr. A.Kolovski)
-A. Piazzolla-Libertango
Aleksandar Kolovski was born 09.03.1990 in Skopje (Macedonia) and started playing the accordion at the age of 7 starting the successful co-operation with Professor Branko Kolovski. He is a one of the most distinguished Macedonian artists of his generation.
He started his studies at the Music High School DMBUC Ilija Nikolvski-Luj, while he is currently a student at the University of Ss. Cyril and Methodius in the class of Professor Zlatko Madevski.
Since 2009 he has been attending master classes in France, where he is a student in the Class of one of the most famous professors of accordion in the world – Fredric Deschamps.
Apart from his main priority, which is playing classical music, since 2010 he has been studying variete (tango, French music, jazz and so on). He has been recorded by French television 3 in Strasbourg as well as a famous TV Show in Le Mans, and a series of concerts through France in Colmar, Montargis, Monaco, Normandy, and so on. Since 2010 Aleksandar has been a HOHNER artist and is one of the youngest promoters of the model HOHNER-fun flash.
Kolovski is an artist famous for his temperament, virtuosity and impressive technique. In 2011 he won 4 prestigious world competitions C.M.A – Trophee Mondial,Castelfidardo,Spoleto,Montrond les  Bains-Lyon), he was a laureate in various categories, and since 2003 has won over 15 international competitions.
Aleksandar has been often invited to hold concerts at festivals in Italy, France, Finland, Bulgaria, China, the Czech Republic, Germany , Lithuania and others.
This is the promotional statement from his last Concert, which took place on August 30th in Villinus, Lithuania at the famous Kristupo Festival – an event that was recorded by the National Radio Television of Lithuania.