Concert by IN MEDIAS RES TRIO with Violin, Bassoon & Piano
IN MEDIAS RES TRIO was founded in 2007 in Skopje by Orce Ickovski and Sanja Suplevska. The ensemble appeared in concerts in Canada and Macedonia and organized events in cooperation with local and international institutions. The ensemble in its several forms is devoted to presentation of music that is not frequent at the local stages and repertoires, therefore taking an active role in realization of resourceful projects (experimental, educational, baroque and classical) supported by the Ministry of Culture. The ensemble stands for versatility that deepens one's craft, inspiration, and legacy. Such experience intensifies one's connection to music, thus knowledge of styles and characteristics in articulation permits the audience feel – even for a moment – the places and times of origin of the musical pieces performed.
In the same context the program for the concert at Klavierhaus in New York in August 2019, is intended to combine: musical compositions in several styles; performed by a unique trio of sound-opposing instruments (violin, bassoon and piano) and musicians from Macedonia with differing backgrounds.
The program features music by a Canadian contemporary composer – Elizabeth Raum, a trio inspired by several phases in a life of a woman. Raum is a Canadian musician (classical oboe-player) born into a family of a Muslim mother and a Jewish father. The trio comprises elements, melodies and rhythms of the Middle East written in the classical tradition of the west. The program also features a rarely performed musical gem by a rococo-composer Gaetano Valery (1760-1822) and a unique piece by Camille Saint-Saëns (1835 – 1921)inspired by rural French countryside. In addition the program will present arrangements by a Macedonian-born composer who lives in Toronto, Canada – Davor Jordanovski, whose musical training started traditional, classical followed by pop and jazz, then branching out into film, mood, jazz fusion, ambient, dance, groove, symphonic, contemporary jazz and R&B.The synthesis of musical cultures has evolved into a unique style of world fusion in this concert, which unifies an infinite range of disparate and varied sounds, instruments, arrangements and sensibilities.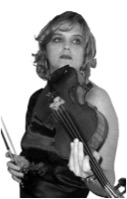 Sanja Suplevska Boiral explored the majority of job-positions for a classical- violinist, worked and studied in three different countries (Macedonia, Austria and Canada), performed among musical artists with diverse cultural backgrounds and interpretational trends, and became familiar with various fancy of audience around the world.
Ms Suplevska was born in Skopje in a three-generation musical family, and her first employment was with the Macedonian Philharmonic, as it's youngest member. Later in her career she achieved full-time positions such as assistant concertmaster of the Macedonian Opera and Ballet, violin professor in the prestigious Conservatory of Mount Royal, and Ambrose University in Calgary, Canada and concertmaster and manager of FAME'S Orchestra – a film music orchestra of the Macedonian Radio that records for Los Angeles, Mexico. Paris and other film productions, based in Skopje in collaboration with a French company.
Today Ms Suplevska performs as soloist and chamber musician, as well as within international orchestras such as the Calgary Philharmonic, Red Deer Orchestra and Okanagan Symphony. Often among founders of new ensembles in Macedonia and Canada, she is president of the board of directors at the Macedonian National Opera and Ballet. artistic director of IN MEDIAS RES, Assocition Polifoniaand Canadian Music in Skopje and concertmaster-coach of Ambrose University Orchestra in Calgary, Canada.
During her studies at the Faculty of Music in Skopje she was a winner of competitions in Former Yugoslavia, and frequently performed in Eastern Europe. In 1994 she started specialization at the Faculty of Music and Performing Arts, Mozarteum in Salzburg, Austria where she studied with prominent musicians in Salzburg, among which Ruggiero Ricci, and performed with various Austrian ensembles throughout West Europe. In 2000 she completed Master in Music degree in violin performance, at the University of Calgary, Canada. In addition, Ms Suplevska has been frequent guest to Canadian competition juries, Television Programs in Calgary, as well as for the production of the Macedonian broadcasting in both, classical music and programs concerning cultural life and education.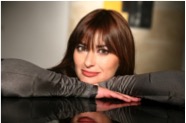 Maja Kastratovic was born in 1969 in Skopje, Republic of Macedonia. She graduated at the Moscow Conservatory »P.I. Tschaikowsky«, in the class of Prof. L.V. Rošina and postgraduate studies in Skopje in the class of Prof. B. Romanov.
As concert pianist she performed with the Macedonian Philharmonic, and as chamber musician in Moscow, Sankt Petersburg, London, Rome, Genoa, Chicago, Krumlov, Kiev, Graz, Villach, Ljubljana, Maribor, Celje, Belgrade, Novi Sad, as well as in international festivals such as L'Escala Music Festival– Empuries (Spain), XXII Villa de CanenaMusic Festival (Spain),Linares Autunno Musicale– Cosenza (Italy), Avellino(Italy); Gubbio Festival(Italy), Best music festival, Beringen (Belgium),Festival for contemporary music, Tirana (Albania), Ohrid and Skopje Summer Festivals (Macedonia).
As a recognition to her contribution to fine arts and culture Ms Kastratovic received Bernnekerjeva Plakata (2011) in Slovenia, and numerous other awards for her work as a musician and pedagogue. She is employed as a piano professor at the National Music School in Skopje, Macedonia and Slovenj Gradec and Slovenske Konjice, Slovenia and holds positions in the jury of several international competitions in Slovenia, Serbia, Albania and Macedonia.

Orce Ickovski is a full-time bassoonist at the Macedonian National Opera and Ballet who regularly performs with the Macedonian Philharmonic Orchestra and the Podgorica Symphony Orchestra in Montenegro
Before graduating from the Faculty of Music in Skopje (1999), he performed with the Macedonian Radio, Philharmonic orchestra, and worked as music editor for the Macedonian National Television in Skopje.
Mr. Ickovski won several state competitions for bassoon performance and chamber music.His solo performances include numerous concerts at international festivals in Bulgaria, Croatia, Germany, Indonesia, China, Turkey, Canada, as well as festivals such as Dubrovnik Summer, Skopje Summer Festival, Ohrid Summer Festival, Days of Macedonian Music, Helerei Festivals in Dresden and Weimar and other.
In addition since 2003, Mr. Ickovski as founder also manages the Associations Polifonia and Children's World(Music School and Children's Theater), and their educational, cultural activities and international collaborations. Mr. Ickovski's associations areorganizers of international and projects in the Republic of Macedonia with guest artists from abroad who take part in domestic events and provide presentations of domestic artists and authors abroad.Among the activities are management of soloists and ensembles (Alea, IN MEDIAS RES, Skopje Ladies) who take part in projects at international and domestic festivals, as well as collaborative projects with state institutions in Macedonia, Europe and Canada. He was responsible for many European tours of his ensembles representing Macedonian contemporary music, his work including not only chamber and symphonic performance but also fundraising events, as well as acting as agent for the members.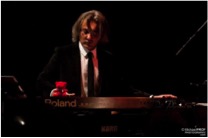 DAVOR JORDANOVSKI's musical training was traditional: classical followed by pop and jazz, then branching out into film, mood, jazz fusion, ambient, dance, groove, symphonic, contemporary jazz and R&B. The synthesis of musical cultures has evolved into a unique style of world fusion, which successfully unifies an infinite range of disparate and varied sounds, instruments, arrangements and sensibilities.
In 2000 Davor moved to Toronto, where he set up Big Bang Music Recording Studios and his own label Davorius Productions. He is also the co-founder of GroUp Entertainment, MDScoring Publishing and MDR Music.Since then, Davor has worked as a composer, arranger and producer for Sony/BMG; Sound Ideas; Westar Music; MDScoring; Soundscape Productions; and BLEPublishing. His music and scores are featured on many radio and TV shows including on CBC, MTV, TVO, OMNI TV and MRTV.Davor recently teamed up with music entrepreneur Kathy Hahn to develop a series of solo jazz projects in addition to writing, arranging and producing for other Canadian recording artists.

ACHIEVEMENTS
2017 – Netflix produced show titled The Royals, season 3 – Music Producer for the track Power, performed by Sunrise And The Good People
2016 – Co-founder of GroUP Enrertainment, a producer of Two Rooms Live Concert Series also playing the role of Musical Director
2015 – TSN Produced documentary titled Breaking Point – Music Composer
2014 – Music Composer / Music Producer for Mississauga Mayor Hazel McCallion Retirement Gala Ceremony
2012 and 2014 – Musical Director for MARTYS Awards in Mississauga
2011 – Music Producer/Arranger/Mixing and Mastering Engineer for Rob Tardik's 3rd Album titled B.E.L.L.
2011 – Present Metalworks Institute Faculty
2009 – Studio Musician for SHANIA TWAIN release: THE FIRST TIME … FOR THE LAST TIME (Renaissance Records).
2007 – Arranger, composer, producer, keyboardist, mastering engineer for EYE OF CHARM – Winners of 2007 Aboriginal Music Awards: Best Male Artist — Joe Byrne; Best Rock Album — THE GODDESS MIRA; Best Music Video — FARWELL MACHINE
Producer MTV TOP 5 – WORLD CHART EXPRESS' single RED RAIN – performed by DANI
-2007-1995 – Winner – Grand Prix (Best Song): Inter-Fest 1995; Inter-Fest 1996; Mak-Fest 1999; Mak-Fest 2001; Mak-Fest 2007
-2001-1996, 1995 Winner – Best Composition: Inter-Fest 1995; Inter-Fest 1996, Mak-Fest 2001
-2006, 1999, 1996 – Winner – Best Arranger: Mak-Fest 1996;Mak-Fest 1999; Mak-Fest 2006
-Composer, artist, arranger, producer – Radio active European hit singles BAH, BA-RA and title track, ROADLESS JOURNEY from DAVOR's original CD, ROADLESS JOURNEY
-2000 Arranger and Music Producer for XXL and the song I Love You 100%, Macedonian representative to the 2000 Eurovision Song Contest in Stocholm, Sweeden
-1999 Nomination for Best Arranger and numerous awards at local festivals and competitions in Macedonia.