E-nstallation
Third Concert of Composers Concordance's 'Timbre Tantrum' Festival Installation involving live electronic music, fashion and video projections
Friday, Dec 6th, 8PM (wine reception starts at 7:30pm)
Gallery MC
549 West 52nd Street, 8th Floor, (between 10th and 11th Ave), NYC $15; general audience
This year's festival produced by Composers Concordance ("enterprising new music organization" -NYTimes) has an innovative approach: each concert focuses on a specific timbre.
The third concert entitled E-nstallation, both emphasizes and challenges this concept; it features seven musicians playing diverse electronic instruments, exploring and extending the boundaries of timbre.
The musicians are active NYC composer-performers: Lynn Bechtold, Svjetlana Bukvich, Dan Cooper, David Morneau, Daniel Palkowski, Milica Paranosic and Gene Pritsker.
Synchronous to the music, a fashion installation will be presented, exhibiting accessories for musicians, created for this occasion by the promising young fashion designers Vicky Vale (Poison) and Patrick Kavanaugh ( Madhatster).
This production marks the first collaboration between Vicky Vale and Composers Concordance.
Vicky says: ""The collaboration between The Composers Concordance, Poison and The Madhatster is so natural, given the relationship that exists between music and fashion. Even the great Frank Zappa, genius composer, said: 'No change in musical style will survive unless it is accompanied by a change in clothing style.' The reason I started my brand was to create stage accessories for musician friends. Music is a performance art and part of the performance is the visual aspect. When those two elements come together harmoniously, the impact is so much greater!"
The third element of the E-nstallation is video projection, which takes a double-role of ensuring a unifying look for the event, and providing a visual and textual 'score', to which the musicians and the fashion designers and models react in real time. The projection design is created by visual artist Gorazd Poposki and composer-performer Milica Paranosic.
E-nstallation will take place at the innovative Gallery MC in Hell's Kitchen, known for its diverse programming with a multidisciplinary bent.
As with most Composers Concordance events, a reception is an integral part. Wine and snacks (appropriately 'styled') will be served during the pre-event reception.
Running time of the event is approximately one hour.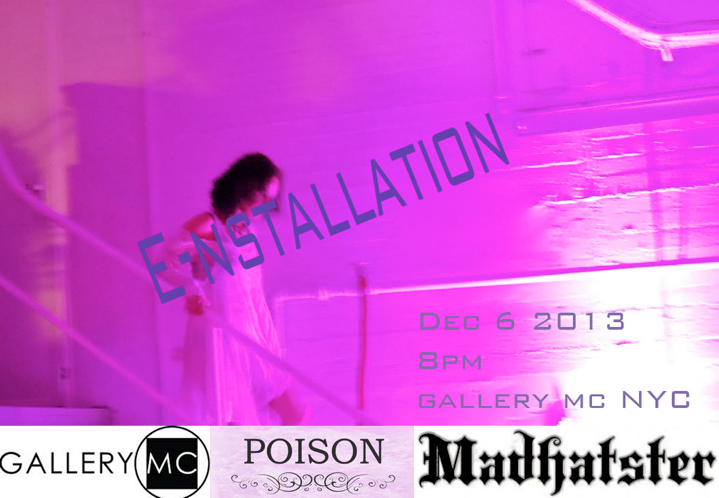 PRESS: for more information, please contact: Composers Concordance
212-203-6163 info@composersconcordance.com
For more information about the 'Timbre Tantrum' Festival visit:
http://composersconcordance.wix.com/2013-14season – !tt-festival/cj5l 
For tickets for E-nstallation visit:
http://e-nstallation.eventbrite.com/ 
http://www.composersconcordance.com