MC Mill and Gallery MC present
Goddess Chronicles
And
Brooklyn/Ghost: 'gone'
Join us for an exciting evening featuring:
Open rehearsal – informal showing of
Goddess Chronicles, a Multimedia Performance Piece by Milica Paranosic, performed by Bruka Band
7 PM
followed by
Brooklyn/Ghost: 'gone', a concert of Poems by Roger Bonair-Agard
7:30 PM
$10 each set, $15 both sets
cash bar, general seating
Gallery MC
549 West 52nd Street, 8th Fl. New York NY 10026
March 22nd 2014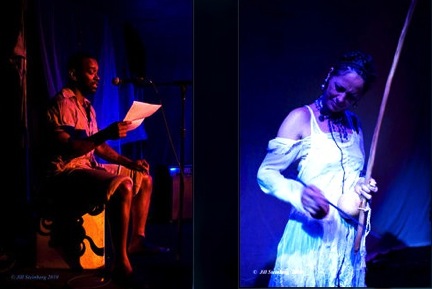 Goddess Chronicles is a collection of intimate and introspective interpretations of Goddesses of different cultures though voices of different art disciplines. This multimedia show is performed in various lengths and presented by varying casts, a full version being a set of 9 goddess-vignettes for a cast of 20.Tonight's performance is a set of four Goddess Portraits, presented by Bruka Band's:  Michelle Stuckey (choreographer/dancer), Roger Bonair-Agard (Poet), Arielle Harp (Harp, Styling), Lauri Galbreath (voice), Carmen Kordas (Video and Projection Design) and Milica Paranosic (composition and direction, vocals, gusle and electronics).
Bruka Band is Milica Paranosic's collective of musicians, dancers, visual and spoken word artists.
Bruka Band productions are typically multimedia performances developed collaboratively under Milica's direction.
Bruka Band has appeared at diverse venues such as Galapagos Art space, Gallery MC, PS 21 and NWEAMO festival in NYC, with a cast including Margaret Lancaster, Lauri Galbreath, Paul Pauthier, Kinan Azmeh, Richard Mannoia (musicians), Roger Bonair-Agard (poet), Kiki da Bahia (capoeira contramestre), Carmen Kordas (video artist), Jason Riccardo Johnson and So Young Ann (dancers) among others.
The next performance of Goddess Chronicles is March 29th 2014 @8pm at the Warburg Lounge of the92nd Street Y in NYC.
http://www.92y.org/tickets/production.aspx?pid=101447
Roger Bonair-Agard's concert of brand new poems is Brooklyn/Ghost: 'gone' poems of gentrification, loss and leaving."  They are poems born out of a Brooklyn birth, a 23 yr Brooklyn return, a Brooklyn changed and a Brooklyn from which the author has slid quietly.  They are also poems about the ghosts to have visited him and brought him there; the ghosts who sang him away.
More info and RSVP at:
http://goddesschronicles.weebly.com/goddess-chronicles-open-dress-rehearsal.html