Invisible MAFAF*
experimental and alternative film practices in ex Yugoslavia (1965 – 1990) and MAFAF
* Inter Cine Club Amateur, Alternative and Artist Film Festival
archive/documentation/installation and screening program
curated by Branka Bencic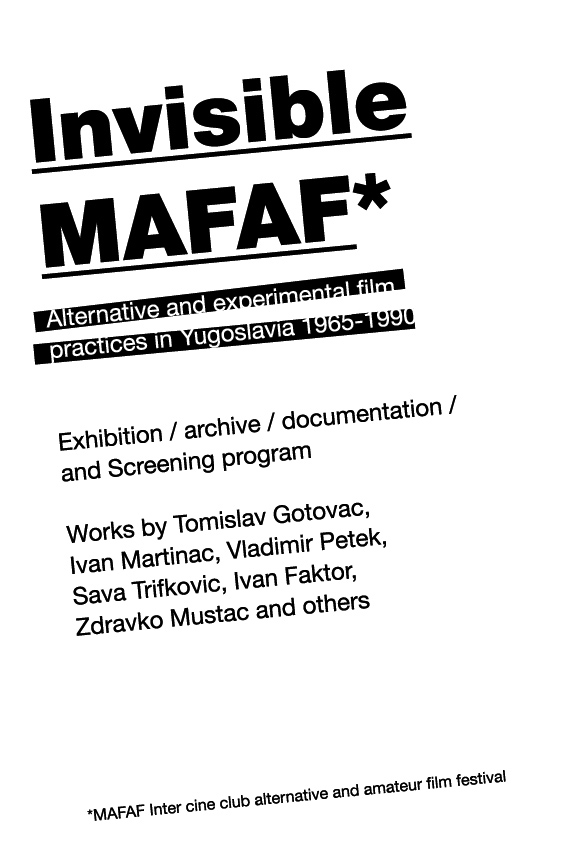 _
Part 1: archive/installation/documentation on view March 9 – 19 at Gallery MC
Reception Saturday March 10, 6-8 PM
Part 2: screening program March 20 at Residency Unlimited
_
MAFAF – alternative, experimental and amateur film festival was held in Pula (Yugoslavia, now Croatia) at the open-air summer cinema, in the courtyard of the Museum Of Revolution between 1965 and 1990 as an annual prelude to the Yugoslavia National Feature Film Festival. The vicinity of the national feature film festival provided the location and the critical context in relation to which MAFAF was formed. MAFAF quit to exist with the break-up of Yugoslavia and the changes in geopolitical and cultural landscape and means of production. The festival was part of an intensive cine club movement and network of cine clubs formed in major cities and smaller towns in all 6 republics of the federation. In all of the former Yugoslavia experimental film derived mostly from the tradition of the amateur cinema. MAFAF showcased works of outstanding Yugoslav independent filmmakers such as Tomislav Gotovac, Želimir Žilnik, Dusan Makavejev, Ivan Martinac, Mihovil Pansini, Vladimir Petek, Karpo Godina, Lordan Zafranovic, Ivan Faktor… and others.  During MAFAF years numerous artists and filmmakers emerged that gained an important role in contemporary art, visual culture as well as professional cinematography. Despite having been the biggest event dedicated to alternative and non-professional filmmaking in Yugoslavia for almost three decades, MAFAF dropped out from collective memory.
Invisible MAFAF is part of the process of "discovery" of independent cinematography, self-management, the cine club movement and conceptual art practices in ex Yugoslavia, showing how it contributed in shaping 2 cultural phenomena of ex Yugoslavia the emergence of conceptual art practices in visual arts and "black wave" in cinema.  It helped to constitute the shift in the dominant film language exploring new paradigms in aesthetics and production.
The installation at the Gallery MC will present research documentation as MAFAF archive. Films, photographs, texts, graphic design, documentation are gathered to present Invisible MAFAF, a research platform, developing since 2010 in chapters and several presentation formats. It is meant to provide room for a subjective critical reinterpretation, without myth, by putting available fragments on a temporary and unstable map.
The screening program, presenting a selection of awarded short films since the 1965 is part of the research project based on festival's archive material, documentation and films. Selected films played important role in the context of histories of experimental and alternative cinema as part of the cultural landscape.  Films in this selection are different in styles and genres, with experimental, documentary and narrative crossovers, range from expressive visuality, surrealist codes, structural cinema, experiments with film language, rhythm, montage or employing critical realism in relation to society. A major part of selected films show interests in human features and are formed as experimental film portraits, sharing the idea of conceptual or performance films with influences of documentary approach, direct cinema, media reflexivity and strategies of self representation.
Additional screening program is taking place at Residency Unlimited
_
Contacts and working hours
Gallery MC
549 West 52nd Street, 8th Floor (Between 10th and 11th Avenue)
Phone: 212.581.1966 | E-mail: info@gallerymc.org | www.gallerymc.org
March 8-11: Thursday, Friday and Sat 12-8 pm, Sunday 12 – 6 pm
next week Tuesday- Saturday 12 – 6 pm and by appointment
Residency Unlimited
360 Court St. unit #4 – Brooklyn, NY 11231
www.residencyunlimited.org