Press Release:
Ladies First–Pioneers
Release date: 10/02/2018
Contact – Milica Paranosic, +1-212-203-6163
info@paracademia.org
http://ladiesfirstnyc.wix.com/ladiesfirstnyc
FOR IMMEDIATE RELEASE
Paracademia Center, Inc Presents:
Ladies First– Pioneers
Sunday, October 28, 2018 6:30 PM
James Cohan Gallery
291 Grand Street
New York, NY 10002
B/D Trains to Grand Street
Tickets: http://LFpioneers.eventbrite.com
Ladies First–Pioneers celebratesthe accomplishments of female trailblazers. Visionary artists, writers, scientists, social justice fighters, musicians, and others on the vanguard are being presented in a festive four-part event, including reception, award ceremony, concert and after-party.
The event is co-hosted by the James Cohan Gallery.
Special presentations include a tribute to our friend and mentor, professor Pia Gilbert (1921-2018), and our guest of honor, Valerie Dee Naranjo, of the Saturday Night Live Band, known for her pioneering efforts in West African keyboard percussion music, all in a beautiful visual setting featuring the paintings and drawings of Grace Weaveron her solo exhibition's final day.
Performers Lynn Bechtold, Kelly Ellenwood, Margaret Lancaster, Johari Mayfield,
Kirin McElwain, Valerie Dee Naranjo, Milica Paranosic and Mioi Takedawill present works by Lynn Bechtold, Johari Mayfield, Gloria Coates, Beatriz Ferreyra,Debra Kaye, Sibyl Kempson, Laurie San Martin, Milica Paranosic, Ann Warren and others.
Ladies First, a concert series focusing on women via art was founded by musicians Lynn Bechtold, Milica Paranosic and Keve Wilson in 2012.
Event sponsors and supporters include The New York State Council on the Arts, James Cohan Gallery, Harlem Shake,Lara St. John/Ancalagonand Robert Ford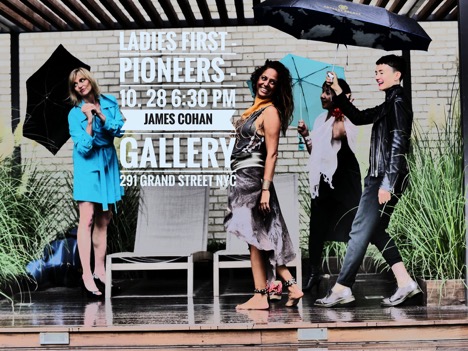 Photo by Lara St. John
©BrukaProducion2018