MUTE + UNFORBIDDEN COLORS
INFO:
MUTE + UNFORBIDDEN COLORS  ///  September 2016 03-10,  Gallery MC, New York
Reception: September 2016 10th, 6 to 8 pm
TEXT FOR EXHIBITION:
MUTE + UNFORBIDDEN COLORS is an authorial exhibition by visual artist Mirna Arsovska and art historian Dejan Budjevac under the common title THE EX-ORPHANS.
The installation consists of two video performances, photographs, drawings, and one poetic text entitled Death knows by Dejan Budjevac.
The exhibition is a kind of audio-visual "document" in which, in a "voyeuristic" manner through two static and identical frames, the poetry of a banal "state", that of a "human back in a supine position, leaning against the inside of a window" is analyzed.
At the same time, in the background of both videos, different sounds can be heard: the carefree voices/communication of adults and children, car noises, but also gunfire, which – in an "odd" and fragile way – confirms the aestheticized muteness (in all its seduction) and the static emptiness of the video image…
The ambiguous mises-en-scène seem like useless, inessential film excerpts, but are none other ultimately than real life itself, a fact that is sometimes surrounded by a certain poetic tenderness and visual beauty.
These small, tranquil, lonely and aestheticized "scenarios", reduced to an empty "tension" form, compositional segments of sensitized color which are reminiscent of certain mannerist aspects from art history.
The cropped frames, refined with a touch of melancholy, possess a subtle texture that incorporates certain artistic conventions: a soft painterly effect, diffuse light combined with fragile details, muted colors…
Other than the intense poetic indifference of the authors, the theme of the exhibition has nothing "recognizable" or explicit; it has no "recognizable" artistic expression/utility, but as such is wide open to interpretation, be it subjective, psycho-social, or cultural; the construction of media, or that of aesthetic theory…
The visual frames, filled with an inexplicable sense of longing, with a "strange" tranquility, also reexamine the already questionable border/disparity between public and (what is held to be) private.
It is in fact an unconscious and fragile shadow of our daily existence, raised to the level of residue/shortage/surplus that does not pretend, but is always present as vagueness or  "pure time"…
DESCRIPTION:
Videos: She The Ex-Orphans (04'12") 2016,  He The Ex-Orphans (04'12"), 2016  ///  Sound: The Ex-Orphans, Radio drama (04'12") 2016  ///  Photos: color print, B3, 2016  ///  Drawings: Pen on paper, 2016  ///  Poetic  text: Death knows, 2012
Curator: The Ex-Orphans  ///  Text for exhibition: The Ex-Orphans  ///  English translation: Natasha Dimitrovska  ///  Camera & editing: The Ex-Orphans ///   Photography: The Ex-Orphans /// Design: The Ex-Orphans  /// Thanks to Nina Kamberos…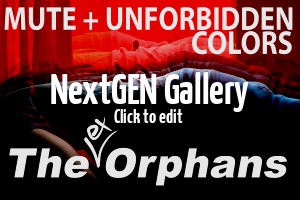 BIOGRAPHIES:
MIRNA ARSOVSKA  (Macedonia)
Born in Skopje, works and lives in Skopje as a freelance artist. Graduated at the Faculty of Fine Arts in Skopje in 1992. Her main field of work are installations, art objects, sculptures and video art.  Literature, music, film in terms of psycho-social, existential, social, poetic and experimental areas are always part of her art and visual works. She has had individual exhibitions in Macedonia, Turkey, Serbia and Croatia. Participated at group exhibitions in Macedonia, Serbia, Croatia, Bosnia and Herzegovina, Japan, USA, England … She also participated in video festivals in Macedonia, Serbia, China and The Netherlands.
DEJAN BUDJEVAC (Macedonia)
Dejan Budjevac is art historian and curator. Graduated at the Insttute of Art History and Archaeology, Faculty of Philosophy in Skopje – Ss. Cyril and Methodius University.  Since 1994, he has writen over 200 texts, reviews and essays in the field of history of art, art critcism, architecture, video, photography and film for newspapers, magazines, publicatons, art catalogs in the country and region… As an independent curator, collaborator of museums or galleries or an organizer, he partcipated in a number of individual and group (internatonal) exhibitons in Macedonia and abroad. He has also partcipated in numerous conferences and panel discussions on topics such as art critcism (the meaning of this profession in the media) and treatment of the culture in public media in the country and region. He lives in Skopje and works as an independent curator and as chief editor of a magazine www.porta3.mk.