SEP 9, 2016 – OCT 1, 2016
BirdLand Theatre presents
THE BIRDS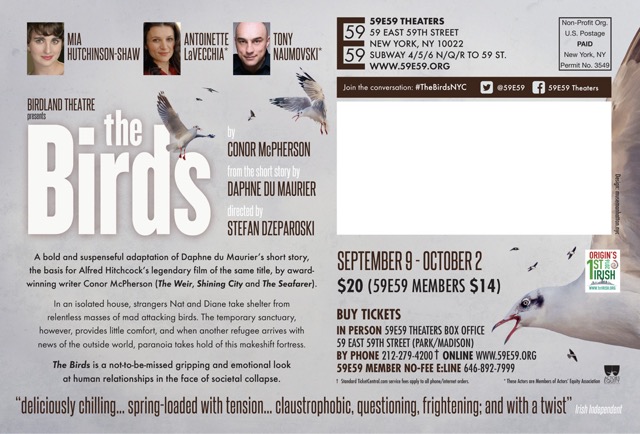 By CONOR McPHERSON From the short story by DAPHNE DU MAURIER
Directed by STEFAN DZEPAROSKI
With Mia Hutchinson-Shaw, Antoinette LaVecchia, and Tony Naumovski
A bold and suspenseful adaptation of Daphne du Maurier's short story, the basis for Alfred Hitchcock's legendary film of the same title, by critically-acclaimed Irish writer Conor McPherson.
In an isolated house, strangers Nat and Diane take shelter from relentless masses of mad attacking birds. The temporary sanctuary, however, provides little comfort, and when another refugee arrives with news of the outside world, paranoia takes hold of this makeshift fortress. A not-to-be-missed, gripping and emotional look at human relationships in the face of societal collapse.
When it first premiered, The Irish Times exclaimed, "NEVER HAS [MCPHERSON] BEEN MORE IN CONTROL… HE KEEPS US ON THE EDGE OF OUR SEAT," and the play was heralded as "DELICIOUSLY CHILLING… SPRING-LOADED WITH TENSION… CLAUSTROPHOBIC, QUESTIONING, FRIGHTENING; AND WITH A TWIST," by the Irish Independent.