In the future, they won't say the times were dark!
Rather they will ask, why were their poets silent?
Bertolt Brecht
A passionate story of love, beauty and art in the dark times, a betrayed and tormented Ophelia is in struggle for her individual freedom. Seventeen performers in nine different languages ask: How to keep beauty safe without suffocating it or driving it to madness or suicide?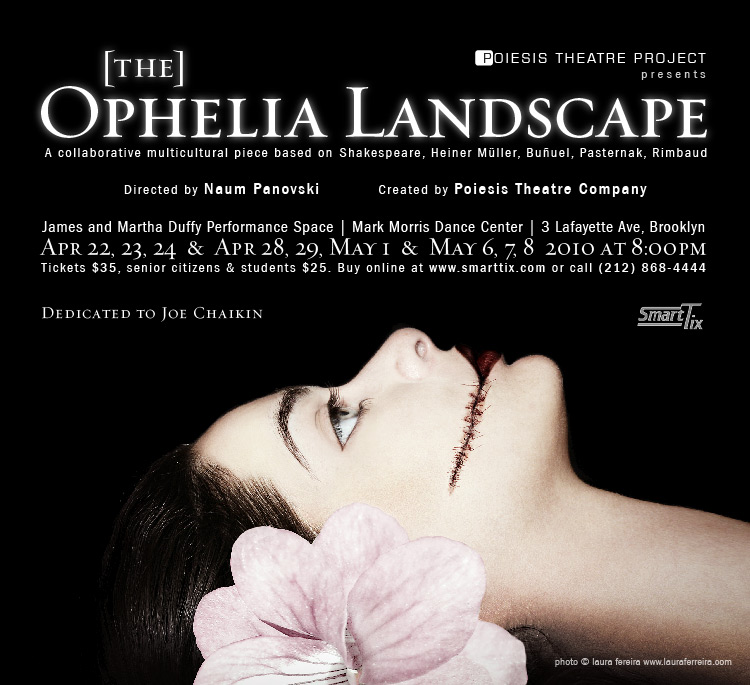 Re-examining Ophelia's tragic landscape at the crossroads of different aesthetics, and breaking down the barriers between disciplines and cultures, director Naum Panovski fulfills the Poiesis Theatre Project's mission in creating an original, ensemble work, featuring live acting, dance, music, and engaging the new electronic media and internet. The material in this performance is gleaned from Shakespeare, Heiner Muller, Luis Bunuel, Rimbaud and Pasternak. Special guest artists include William Nadylam (Peter Brook's Hamlet in Paris), Mira Furlan (Lost & Babylon 5), among others, in a performance dedicated to Joe Chaikin,

We perceive the world as an open landscape for different cultures to braid.