TRANSFORMATION by re:artiste
Juried Exhibition
TRANSFORMATION – 2018
The Only Thing That Is Constant Is Change. ― Heraclitus
SEVERAL ASPECTS OF TRANSFORMATION ARE PRESENTED: SOCIAL, PERSONAL, BEAUTY
December 7 – December 21, 2018
Opening Reception: December 7, 6:30 PM
Contact Curators:
Natalie Burlutskaya, natalie@reartiste.com
Hadieh Afshani, hadieh@reartiste.com
WHAT: Inspired by Heraclitus's famous words, "The only thing that is constant is change", this art exhibit features artistic depiction of transformation in an array of aspects such as Social, Personal, Beauty
Friday, December 7, 2018 – Opening Wine Reception: 6:30 pm to 8:30 pm
WHERE: Gallery MC: 545 West 52nd Street, 8th Floor, New York, NY 10019
NEW:ART RESIDENCY. In support of artists of all background, RE:ARTISTE launches an opportunity for a one- and two-week art residency where the selected artist is sponsored with a studio and bedroom to stay and work in NYC
WHO: RE: ARTISTE International Art Organization – a platform with a global peacemaking mission to connect people of diverse cultures, origins, and legacies through art – presents the winners of its 2ndannual international juried exhibition, "Transformation". Visual artists show their vision of transformation experienced through social changes, aging, parenthood, sexual life, to name a few.
Curators: Natalie Burlutskaya, Hadieh Afshani// RE:ARTISTE International Art Organization
Jurors: T. Lawrence Wheatman, Marc Fields, Ebrahim Soltani
Artists: Dong Kyu Kim, Ashley Garner, Dieneke Tiekstra, Hisayasu Takashio, Antanas Adomaitis, Yang Mai, Yong Chen, Cheryl Maeder, Sena Kwon, Parisa Ghaderi, Francis Milloy, Maki Fujita, Anna Park, Kristen Palana, Ruth Jeyaveeran, Norbert Garcia, Jingmei Han, Layla Love, Leslie Fry, Jenny E. Balisle, Michele Antenorcruz, Diana Biscaioli, Yau Shan Fibbie Wong, Loren Abbate, Maryamsadat Amirvaghefi, Nicolas Vionnet, Elody Gyekis, Mark McDermott, HakChul Kim, Catherine Adams, Hildegunn Solbø, Mark Harrington, Samantha Passaniti, Allen Terrell, Guli Silberstein, Elham Ataeiazar, Izumi Yokoyama, Despina Zografos, Kiley Ames, Miguel del Rey Vergara, Alain Licari, Ben Pell, Roshan Houshmand || Info: www.reartiste.com
Special Project: Ashley Garner, Lauren Karaman, and Rachel Yamshon introduce their photography project 36-24-36 in a first solo show, part of the exhibition "Transformation"
PROGRAM
December 7: Opening – Wine Reception – meet the exhibiting artists, 6:30 pm – 8:30 pm
December 8: Networking Event Introduction, artist talks, discussion 2 pm – 4 pm
December 12: Circle Discussion introducing Project 36-24-36 6:30 pm – 8:30 pm
December 14: Opera Concert "Holiday Transformation"7:00 pm – 10:00 pm, in collaboration with Lyric Seasons
December 15: Film Festival curated by Paracademia at Gallery MC
December 16: Specialty on Guitar with String Quartet
December 18: Workshop by Hadieh Afshani for visual and theater artists, "The Power of Movement in Chinese Ink Painting" 6:30 pm – 8:30 pm
RE:ARTISTE International Art Organization was founded in 2012 and led by Natalie Burlutskaya as an art events and networking platform for emerging and established artists to be seen by curators, buyers, and art enthusiasts as a peacemaking mission by connecting people of diverse cultures, origins, and legacies. Art conveys both historical and social facts, lifestyle, inspiration, and feelings; RE:ARTISTE curates exhibitions and events to encourage historic and cultural discourse to embrace diversity, cultural differences, and various art styles. www.reartiste.com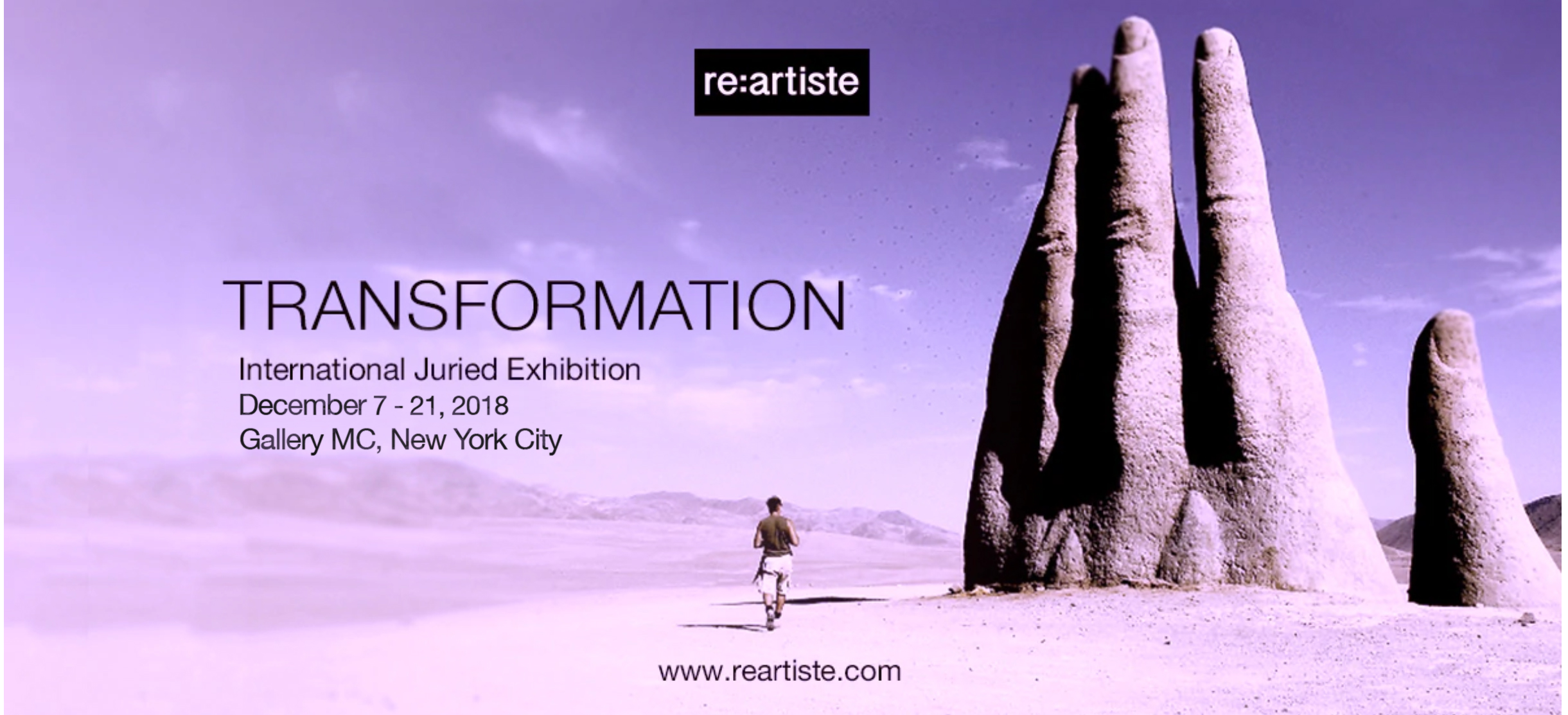 ABOUT PARTNERS
Gallery MC. Embracing the synesthesia of creativity in the widest sense of the word, Gallery MC believes in cross-pollination, mutations, and integration of discourses across the artistic fields. This is a multicultural interdisciplinary art gallery committed to the research, production, presentation, and interpretation of contemporary art. The gallery supports emerging artists and explores ideas at the junction of arts, performance, and architecture. www.gallerymc.org
Lyric Seasons. A boutique-size production company, Lyric Seasons creates a platform for musicians to experiment with various music genres such as opera, operetta and music theater, art songs, sacred music, contemporary, jazz, and crossover. www.lyricseasons.org
Key to the Image: Dieneke Tiekstra, "Bits and Pieces". Invited to the art residency in December 2018.